| | |
| --- | --- |
| | Latest News |
---
5.21.13


Announcing
Weaving Through the Mountains
NCBA Fall Seminar 2013
September 13 and 14, 2013

Seminar information has been posted on the NCBA Website.
Corrections to the Seminar information:

Please call 828-665-2161 to make a hotel reservations
This is the local number for the hotel.
You will only be able to get the $109.00 room rate if you call THIS number!


Class #FR1200/SA The Tailgater by Tika Tucker is a two day class.
The times are
5:00 p.m - 10:00 p.m. Friday
AND
8:00 a.m. - 4:00 p.m. Saturday
Apologies for the photo quality in the printed Reeder's Report, we have a new printer, and are still working out the bugs.
The quality of photos in the online version are much clearer!
Take a look, and choose some wonderful baskets for your Seminar classes!
---
NCBA CONVENTION 2014: BASKET COLLECTOR II
Teacher Proposal for Convention 2014 is online!
Jury Chairperson: Ellen Healy
Convention Coordinator: Juanita Carreon
Please read information carefully.
Please watch deadlines!
Also, we would like your typed description/information.
Please see the Teacher Proposal for Convention 2014 for information.
---

5/16/11 NCBA on Facebook!
You can "like" us, and get all the latest news updates in your daily facebook fix!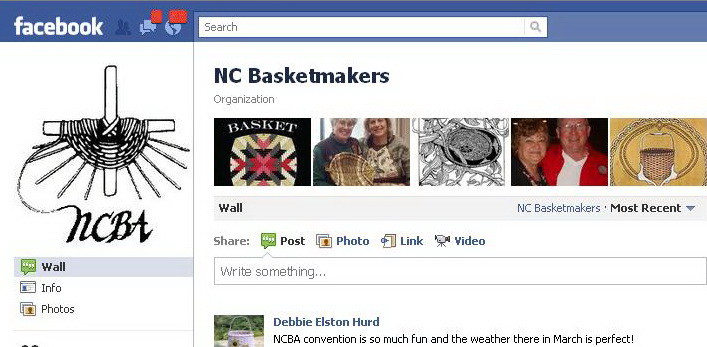 Special Projects, Community Awareness, and Other Weaving Opportunities
Weaving Opportunities

Official NCBA events are listed first and given priority.
Affiliate Guilds special events are listed on the website at the guild's request. NCBA will host registration information and put it on the website.
NCBA individual members can have WHO WHAT WHEN WHERE information about events posted (this is the NCBA Bulletin Board that was previously announced and is also available for inclusion in the Reeder's Report.)
Business events are not considered Individual Member events and thus are not eligible for posting.
The Yahoo Email Group is open to posting by businesses and individuals for basketry related events.
.Sorry, we cannot simply list the availability of a teacher; it must be a specific scheduled class. Remember to include date, times, venue and cost, if applicable. We reserve the right to make the final determination as to published content. While the website has no deadlines and you can submit information at any time, The Reeders' Report does. They are:
October 1 for November issue
January 1 for the February issue
April 1 for the May issue
July 1 for the August issue
Send your information by e-mail to:
Alma Lambert and Pamela Zimmerman If you have any questions about what to post or ANYTHING else, please contact us. We look forward to hearing about and passing along the interesting activities of your guild and its members.

Recent Deaths
Site Map
If you have photos of weaving evens, or other news of interest to NCBA members, please send it to:
Cathy Schneider, web reporter; or Pamela Zimmerman, webmaster. Please include as complete information as possible, including names of individuals shown in photos! If you have no means of digitizing your pictures, send to Pamela at the address in the member's roster. Please send SASE if you would like the photos returned!
Copyright © 2008 North Carolina Basketmakers' Association, Inc. All rights reserved.
Webmaster
Anti Spam