Sheraton Imperial will soon be accepting reservations for the 2014 convention online.
Until the link is set up, please make your Reservations by phone: (919) 941-5050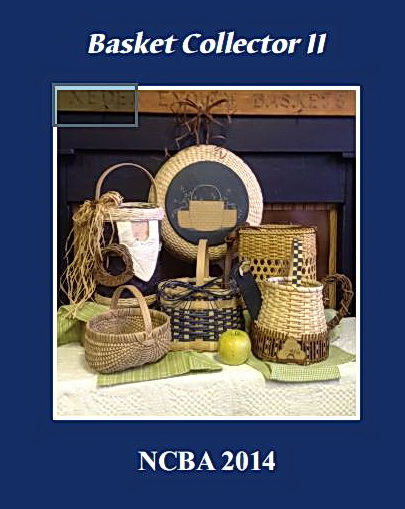 NCBA 2014 Convention
"Basket Collector II"
March 13-16, 2014
Sheraton Imperial Hotel
Durham, NC
Convention Coordinator: Juanita Carreon


Convention attendees:
Please remember checks for your classes
(materials fee) payments are DUE
(NOT postmarked)
by THIS FRIDAY, Feb 14.
You can pay for them online- it's fast and easy!


--A MESSAGE FROM THE Board--
---
January 7, 2014
The NCBA Board regrets this year's convention brochure was submitted to the printer past the usual deadline. 
After submission, it took 2 weeks to print, instead of the projected 2 days. 
The convention packet was forwarded to the mail house on Thursday. December 19th.
A first mailing was Friday the 20th, with a second mailing Monday the December 23.
The mailing house was closed the 24th and the 25th for Christmas, the third mailing was Thursday the 26th.

  The Board believed all members had been sent packets as of Thursday, December 26th. 
We were advised by the Post Office that Priority Mail could take up to 5 days, and that we should allow for additional days due to inclement weather and very high shipping traffic because of the Christmas rush.

  After hearing some reports of still missing brochures, NCBA launched an inquiry at the mail house.
It was discovered there was a previously unknown computer software error, resulting in 96 of our members receiving 2 packets and 96 members who did not receive one at all.
Because the convention brochure packet is very expensive, NCBA only purchased a few extra over what is required, so we do not have enough to reship to those who did not receive them.
The Mail house is having a printer print 100 copies and they will be mailed to the remainder of the 96 that have not received a packet; but we do not have a date for when this will happen
**If you received a double shipment, and would like to send your extra to a member who did not receive one, at your own expense, please contact Jean Lovelace directly for a mailing address for a member who still does not have a packet.

  NCBA regrets the errors, and hopes our membership will continue to support us by attending convention. 
We have always said that basketmakers are the most caring people in the world, and we appreciate all those who have helped us move forward in this time of trial by keeping us informed.
  Registration deadline has been extended to January 16, please see below for additional new dates.
We regret that this gives members less time to consider their class choices, and teachers less time to prepare for classes.
**Please register and pay for classes online, if possible, as this helps the process immensely.

  Together, we can and will make the 2014 convention a great experience for everyone.  
Thank you for your continued support and understanding.
The NCBA Board of Directors and the Convention Review Committee (CRC)

---

NEW DATES:
Thursday 1/16 - 4pm - Close of Registration
Monday 1/20 - holiday - Martin Luther King day - no mail
Tuesday 1/21 - mail letters
Saturday 1/25 - 10am - 2pm - call-ins
Tuesday 1/28 - 7 - 9pm - call-ins CATHY ONLY
Wednesday 1/29 - 7 - 9pm - call-ins Cathy and Brenda
Saturday 2/1 - 10am - 2pm - call-ins BRENDA ONLY
Wednesday 2/5 - 7 - 9pm - call-ins Cathy and Brenda
Saturday 2/14 - Teacher Checks due

Reminder to Everyone!! Please refer to the NCBA Membership Roster/directory to get telephone numbers for Brenda Elshof and Cathy Lehman.

---
All convention brochures have been mailed as of last Thursday, December 26. According to the mail house, Priority Mail can take up to five days. Jean Lovelace has the extra copies of the convention materials and has volunteered to mail out the extras.

If you have not received your materials by Friday, January 3, 2014, please contact Jean Lovelace by email, telephone, or mail.
Here's Jean's information:

Jean Lovelace

You can still register on the NCBA website. Thank you for your patience in this matter; please direct questions to me.
Alma Lambert
President

---

Convention Brochure IS NOW ONLINE!
Registration Form
T Shirt Order Form

ONLINE REGISTRATION IS OPEN !
***Please register online! by clicking here!***
Registration will go through January 10
payment MUST BE IN on January 31.
Cathy Lehman, registration chair, phone number in the brochure is incorrect. Please use the online member directory to find the correct phone number
If you are able to use online registration, please do so! This will help the process go faster. We have used this system for several years, now, and it works great! Take the dive, and help out! Encourage your friends to do it, too! Why not a guild party to help everyone register, at the home of one computer savvy member?

Teacher's Proposal Online
(pdf format, Adobe Reader Required - download Adobe Reader below)

---
For more convention information:
Check the Convention News page Convention is held at the Sheraton Imperial Convention Center in Durham, NC. This is a wonderful, self-contained facility. Everything is under one roof, and you will find it a wonderful way to convention! Book your rooms early, as they do fill!

If you want to read more about convention, here is a little more information. See the latest copy of the Reeder's Report, our quarterly newsletter, for more convention information, and of course, our convention brochure! These are available to members, and are mailed in November.

Photos of previous conventions:
Convention 2013:"The Case for Baskets"
coordinated by Katie Lake

Convention 2012:"The Woven Journey"
coordinated by Judy Wobbleton

Convention 2011: "A Basket Tradition"
coordinated by Jean Lovelace

Convention 2010: "Celebrating Baskets!"
coordinated by Jeanette Miller

Convention 2009: Baskets, Naturally!
coordinated by Nancy DeVries and Pamela Zimmerman

Convention 2008: My Baskets and Me
coordinated by Bill and Charlene White

Convention 2007: Weaving Friendships
coordinated by Judi Swaim and Lynn Schroeder

Convention 2006: 20 Years of Weaving with Friends
coordinated by Pamela Zimmerman

Convention 2005: That Which You Share
Coordinated by Lyn Siler & Judy Wobbleton
Convention Report by attendees

NCBA Convention 2004: Basket Collector
coordinated by Juanita Carreon
Report of convention 2004, by attendees.